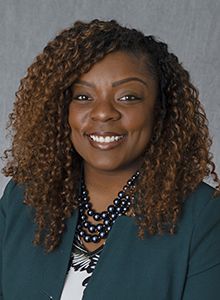 Janeale Gottlieb-George
Program Director
jggeorge@gwu.edu
202-994-7165
Watching young people pursue their wildest dreams has always been the best part of my work. After spending eight years as a recruiter in undergraduate admission offices, I try to teach students how to highlight their strengths, acknowledge their weaknesses, and speak highly of their own potential to thrive. I truly believe that every student has a right to a great education and that there's a "perfect" college or university experience out there for everyone. I love working at GW and its location in the heart of the District because of how much we get to expose our students to each year right in their own backyard. GW's School of Medicine & Health Sciences also provides a special front-row seat to those particularly interested in the health sciences. I hope that any student that participates in our program comes to us with an energy and desire for success---we'll also have a ton of fun along the way!
I attended Villanova University in Pennsylvania and earned a bachelor's degree in Communication Mass Media & Public Relations. In 2015, I graduated with a master's in Higher Education Administration from Northeastern University. As an educator, my deepest passions lie in education policy, access, and equity.
Born and raised on the beautiful island of St. Thomas in the U.S. Virgin Islands I have always appreciated warm weather and any opportunity to travel, learn about different cultures, and most definitely try new foods. Fun facts: I love spicy food, my favorite color is purple and I know all the words (and songs) to the movie, Grease.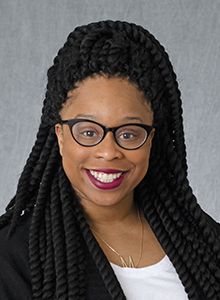 Mahogany Persip
Associate Director
mpersip@gwu.edu
202-994-4269
Here are some fun facts about me:
Though I do not have a favorite movie, I will say my two favorite movie genres are Fiction/Fantasy (Marvel, Harry Potter, DC Universe) and Disney. I have always loved comics, Disney, and storytelling. I think the character development tends to be better than other genres. There is always a message for the viewers and each genre can target many age groups.
I prefer vacations in nature more than cities. I think that being in nature can be very reflective, healing, and magical. So, give me a beach, mountain, or lake over the hustle and bustle of a city any day. 
The best concert I have gone to was Afropunk, I saw performances by The Internet, H.E.R, Miguel, Jessie Reyez, and many other artists. The music was amazing, the vibes of the crowd were free, warm, and inviting. My plan is to go every year! My favorite two spots on GW'S campus are Kogan plaza and Mount Vernon quad. Kogan Plaza is a great spot in the spring, student groups have events there, there are food trucks and it's a good place to see the culture of GW. Mount Vernon quad area is a large space where students can hang out playing football, Frisbee, or sitting and chatting on the grass. It helps you forget you are in the heart of the city which can sometimes be peaceful.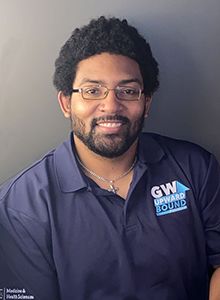 Quentin Pair
Program Coordinator
quentinpair@gwu.edu
My name is Quentin Pair and I am the program director at GWU-SMHS Upward Bound. I was born in Washington DC (ironically, in George Washington hospital) and spent the majority of my life in Hyattsville Maryland. I went to Northwestern High School and graduated with the class of 2005. I attended the University of North Carolina at Wilmington with a Bachelor's Degree in Filmmaking. After graduating college I began working in Prince George's County Public Schools as a paraprofessional/assistant teacher, as well as finding a deep passion for coaching both boys and girls soccer on the middle and high school levels, leading my teams to multiple championships in the process. During this time I've also been working with Upward Bound as an English instructor. 
Some cool things to know about me: While I don't have a favorite movie per se I love the superhero genre of movies. I love the standard marvel and DC brands of superheroes but I also enjoy fringe stories that aren't a part of the mainstream awareness, for stories about human beings with extraordinary powers that aren't necessarily trying to be heroes. Movies like Bright Burn, Watchmen, or Jumper are my favorites.
My favorite vacation spot is easily Hawaii. I've been three times in the last five years and it is absolutely my spiritual home. If I could, I would grab all of my friends and family and move them there. It is very much a paradise, especially if you love outdoor activities as I do. The best concert I've ever attended was The Foreign Exchange at the Howard theater. Even though I stood for over 3 hours, it was totally worth it to see my favorite music group jam out to some of the best music I've heard in life. I went home sore but totally happy.
---
Upward Bound Program
GW School of Medicine & Health Sciences
Ross Hall
2300 Eye Street NW, Suite 202
Washington, D.C. 20052
Phone: 202-994-7250
Fax: 202-994-7651
General Questions/Inquiries: upwardbound@gwu.edu