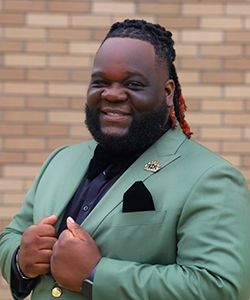 Upward Bound Director - Darrell E. Thornton, Jr. Ed.M
darrell.thornton@gwu.edu 
Greetings Upward Bound Family, 
It is my hope that this communication finds you well and whole. 
I'm Darrell E. Thornton, Jr., Director of Upward Bound here at George Washington University. Born and raised in Lakeland, FL (30 minutes east of Walt Disney). A 2008 graduate of McKeel Academy of Technology and a 2012 graduate of Bethune- Cookman University, with a Bachelor's of Science degree in Exceptional Student Education, K-12.  After graduation I moved to Huntsville, AL where my career began as an Special Education Collaborative Teacher in Title 1 schools  with Huntsville City Schools. After seven years in the classroom I transitioned from K-12 education to higher education and began working at Alabama A&M University as the Coordinator of Upward Bound until June 2021. 
In pursuit of furthering my education I enrolled into graduate school and worked as an Assistant Hall Director at SUNY at Buffalo from August 2021 until June 2023. Completing my master's degree May 2023 in Higher Education Student Affairs Administration. 
As a former student of College Reach Out Program (Pre-College Program) and first-generation college student I understand the importance of programs of this magnitude, and its reach into our communities and students. My belief is that Pre-College Programs such as these empower and equip our youth from underrepresented areas, preparing them for post-secondary education and bridging the gap for college readiness. I am eagerly excited to continue the work of serving the communities that represent this population and who I am. Upward Bound here at George Washington University will be the pinnacle site in the "District". 
When I'm not working you will find me in my element of spending time with family and friends, hanging with my Fraternity Brothers (Alpha Phi Alpha Fraternity, Inc), traveling, cooking, hosting gatherings, playing spades (I wrote the game), and laughing. I'm a huge lover of music, HBCU bands/football, Law & Order SVU, Reality TV and Abbott Elementary. 
I do believe that every student has the right and ability to learn, it's our responsibility as educators to show every student this possibility. Lastly, family, I'm very excited and welcoming the opportunity to personally meet every parent and student within this program. Your support and buy-in is greatly needed and wanted. I'm excited about our future here at GW Upward Bound. Remember, let's "Lift, as we climb".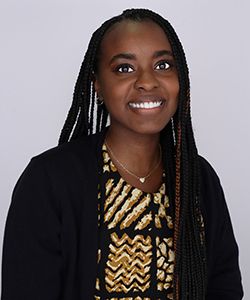 Upward Bound Associate Director - Gabrielle Mitchell
g.mitchell@gwu.edu
Hi, I'm Gabrielle Mitchell the Associate Director at Upward Bound GW! Originally from New York, I attended The University at SUNY Albany (Go Great Danes!) and graduated with a Bachelor's in Communications. I have also lived in Philadelphia for some time, with a final stop in Washington DC! I am passionate about the "people" in my work and love supporting young people to reach their goals. I have found that empathy and genuine support can go a long way when offering guidance.
As a former Upward Bound student myself, I visited GWU many years ago in hopes of supporting this campus and the surrounding community, and am now here doing just that! Meaningful service is an aspect of my work that I find to be extremely important and I am excited to further the mission of Upward Bound right here in our nation's capital!
When I'm not working I love relaxing in any form that I can get it. My favorite activities would be reading (nothing of actual substance), attending concerts, eating out/trying new foods, and watching dramas. I have a ton of niche interests so feel free to say hello if you see me, I'm sure we'll have something to talk about!
I am a firm believer that you can learn from anyone no matter how young or old they are because education is the most powerful tool you will ever receive.
 
Program Coordinator - Vacant
---
Upward Bound Program
GW School of Medicine & Health Sciences
Ross Hall
2300 Eye Street NW, Suite 202
Washington, D.C. 20052
Phone: 202-994-7250
Fax: 202-994-7651
General Questions/Inquiries: upwardbound@gwu.edu